Copper Accessories
RIDGE CAPS
The Ridge Cap is STRICTLY decorative and does not provide any venting. As copper ages, it will patina and its appearance will change. It changes from shiny, glimmering copper to dull flat brown, then finally to the classic blue-green, verdigris color.
Flat - RC45008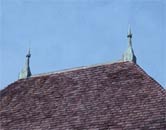 100% Copper. Availabile in 8'-0" sections. Choice of two finishes:
regular copper or patina (verdigris green color done by chemicals)
$350.00 (Regular Finish) $375.00 (Patina Finish)
Shipping Wt. 20 lbs.